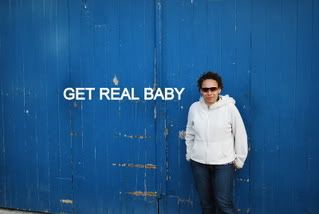 Get Real Baby.
It's what has been going around and around in my head lately.
Please let me explain.
My biggest challenge probably in my life at the moment is dealing with the imaginary woman; the woman who bakes all the time, who keeps an amazingly clean and organised home, the woman who gets an appropriate amount of sleep, who never raises her voice at her children, who always honours and respects her husband, who has her homeschool organised, who loves to sew, who has a wonderful prayer life, who is joyful in all circumstances, the woman who always sends birthday cards to all her friends on time and makes lovely thankyou notes, who reads the Bible and lives by it every single day, who has all her photos backed up on an external harddrive and who never really worries.
Of course, there is nothing wrong with any of those things at all - in fact I aspire to have many of them in my life. But just wanting to be all those 'things' is setting myself up for failure - this woman does not exist. And see this is the thing...the important thing - I want to be more like Jesus and not like this imaginary woman because I know He just takes me as I am, that He moulds and shapes me and that He is the one who is most important in my life.
What I'm getting at is this - I feel it is crucial to be honest.
To be real.
Why?
Because there is no imaginary woman - I am not her, you are not her. And the more real we are with each other, the more open and honest and transparent we are, the more that imaginary woman will disappear and then we can be really free to be moulded and shaped by our Maker.
We are not alone in our messy floors, our cranky children, our fears of being lonely, our difficulty with planning, our struggle to stay on top of bill paying and certainly not alone in our need to be real with each other. Sometimes being real is about sharing the wonderful stuff but is also about sharing the stuff that breaks our hearts, that makes us cry, that makes us wonder how and why and the stuff that can really shake us to the core.
One of my favourite passages in the Bible is in Hebrews where it talks about Jesus being understanding of what we have gone through, that he sympathises with our weaknesses and so we can approach the throne of grace with confidence (Hebrews 4:14-16). He gets it. He understands. He wants me to be real with Him just like King David was throughout the Psalms and just like Solomon was throughout the books of Wisdom.
I'm pretty much a half glass full kind of girl and plan to remain that way giving thanks still in all circumstances. I'm not saying that the things that I post that are real are great or that i'm proud of them, but I am human. I am real. I am wanting to connect on that level with others too. And I will work on some of these things over time.

So here's what I'm proposing - every now and then (i'm not going to say every week because I'm just setting my self up for failure with that!) - i'll be posting a 'Get Real Baby' post where i share things that have really happened in our home. I encourage you to do the same. Copy and paste the 'html code' into your blog (by clicking on 'Dashboard' then 'layout' then 'add gadget' then ' add html code'. Copy and paste it and then you will see my blog button on your page. Let me know if you also are going to do this and I'll list your blog as a place people can go and read about 'real life'.

So here we go for the first:
GET REAL BABY FEB 09 POST:
Really:
* Really, I almost can not get into my walk in robe.
* Really, Elijah and Stassi had 2 time outs this morning within the space of 5 mins all before 8am.
* Really, I did not make my bed this morning.
* Really, I nearly passed out before and after the glucose test today and was so glad my parents were here to help with the kids otherwise that just would not have been good at all.
* Really, I baked tonight at 10pm.
* Really, I bawled over the phone in gratitude to the lady at the Autism Advisor Service as she explained how we are eligible for $12,000 in therapy costs for Elijah. And when I say bawled, I mean like I'm not sure she was able to understand what i was even saying by the end of it but I'm sure she got my drift.
* Really, I felt sick when Ethan ran into the room and fell and tripped and landed right near his eye on the corner of the toy box. Like really, I thought I was going to vomit. So glad it was not any closer otherwise he seriously could have lost his eye altogether. I held him so tightly afterwards and cried and really thanked God it was not worse.
* Really, I slept for 2.5 hours on the recliner this morning from 4pm just so i could try and escape the rib pain (thanking God it has gone now!).
* Really, I had my friend come over tonight and while we prayed and chatted, she cleaned the dishes and swept the floor.
* Really, I get excited at the thought of finding the right computer cupboard that we are going to find in an op shop and that i am going to paint before bubba comes. Really. I get excited about that.
* Really, I haven't mopped my floor for over a month.
* Really, I need to stop going to bed after 11pm.
* Really I am so saddened by the bushfires and major loss of life in Victoria at the moment.
Well that's enough for my first Get Real Baby Post.
Ok so if you want to join in, don't forget to copy and paste the html code for the button and then let me know in the comments that you are joining in and being real about your life too.
I'll finish with 5 things I'm thankful to God for tonight:
1. Chat with Kaz :) Thanks for caring mate!
2. Time with Ally tonight :)
3. Mum & Dad being here to help out today
4. Going for afternoon tea with all of us this arvo
5. The fabulous Autism Advisor Service call
Love Lus x