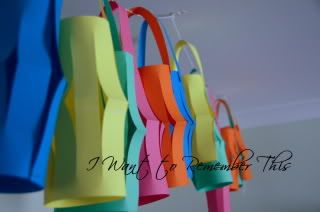 I've been thinking so much about things that our children say and do and how quickly time passes as a busy mama! I used to scrapbook LOTS and LOTS as some of you may remember! And since I don't do that anymore, I've realised that over the past few years, my blog has become my scrapbook! In my old scrapbooks, I have SO many layouts with sayings that the kids came up with over the years and I would have forgotten them if it hadn't been for that record -keeping I did back then. The same goes for now...just that I'm planning on record-keeping in a different format; right here!
So if you are like me and think that time passes WAY too quickly, then how about joining in this meme?
Inspired by a song we had playing during our homebirth, I've called this Meme,
'I Want to Remember This...'
Here's what you do to join in. Post a photo (if you can) and a little (or big!) caption of the thing you want to remember. It doesn't have to be about kids! It might be something you want to remember about your own life. It might be several photos! Don't hold back! Just take the opportunity to capture the moments that you want to remember forever! And write about them too. Engage your senses and tell it how it is right there in that moment.
Here's me starting off.
Ok.
I Want to Remember This...
Sunday Morning.
Early.
You all pile into our bed.
The curtains have barely been pulled back and the warm glow of light streams through.
I Want To Remember This; Zippi you LOVE to offer Zeeki his dummy and we have to be careful you don't try to jam it into his mouth too hard (only from a desire to love and help though!)
I Want To Remember This; Ethi you talking so gently to Ezekiel and saying, "Take a picture of us mum!"
I Want To Remember This; the sense of awe...
I Want To Remember This; the joy in your hearts so evident in your faces when you look at Zeek...
I Want To Remember This; how you say "a-gooor" already Zeeki to the kids!
You are already communicating with us!
And finally, I Want To Remember This;
our five kiddos together, on a sunny Sunday morning, snuggled up on our bed, early in the morning.
So, want to play along?
Join me!
It's easy peasy.
To recap: just make a post on your own blog about something you want to remember for times to come! It can be with a photo or several or without one.
The point is to make a note of what it is that you want to remember.
It doesn't have to be pretty or happy, it can be about whatever and wherever you are right now.
Once you have posted it on your blog, then link up by putting your details into the Linky Box below.
Looking foward to reading about what you are wanting to remember.
More soon.
Love,