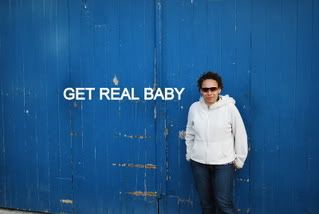 I think it would be lovely to get real about the amazing kindnesses that have been showed to us in our lives.
Here are some of mine....
*
REALLY
- Aunty Iris, a beautiful Christian lady who came to the Lord when she was 56 years old, was such a kind person to our family growing up. She volunteered to help out families that we stuggling in the area I grew up in. As my mum had 4 children under the age of 5 with no support whatsoever, she was assigned to our family to come and sit with mum, help out with the occasional spot of babysitting (like once or twice a year) and just be helpful to mum. She became like a surrogate mother to my mum and a substitute grandma to us. She is very special to us still. At both of my parent's 60th birthdays recently, the only people they really wanted present at the dinner were us (me & brett and the kids), my sisters (they would have loved my bro there but that's another story), and Aunty Iris. Her kind, prayerful heart has touched me profoundly. Love my Aunty Iris!
*
REALLY
- The kindess shown to me by my Anth will never be forgotten as long as I live. There are so many times that she has shown God's love to us through her kind ways; when i had little ones she would come to visit (invariably with a pie, box of fresh fruit, breads, beanies for the kids, flowers, or freshly made hot soup and parmesan cheese!) and then would ask how she could help me - she would wipe one child's hands in the high chair, read to another on the floor, wash up at the sink, pray for me, make cups of tea and make me laugh. Special beyond words and completely unforgetable. Love you my friend!
*
REALLY
- The kindness of the Lord has been shown to me through many women like Aunty Kerrie and Sue who have in turn shown me what raising a family looks like, encouraged me in homemaking and offered me cups of tea, cake and hugs. Like Christina, Arley, Sharon, Cassandra and Karen D who have given us stuff for our little bubba. Like Helen bringing around a meal when I couldn't walk when I was pregnant with Ethan and had terrible sciatica and coming with Annie to change nappies when I couldn't reach the floor. Like Mell Mallin ringing today just to see how I am. Like Mel Moor, Ali, Em B, Donna, Monique, Danielle Q, Bek G, Pam, Tiff, Reb, Sumi and so many others who have shown kindness in a myriad of ways through our years of friendship.
*
REALLY
- How can you express the kindness of your family? I'm so thankful (despite having the normal ride of ups and downs with them) that I am a part of a very generous and kind family. Like mum catching a train at 4.30AM (!) to be here to lift out Ethan from his cot when he awoke at 6.30am since I couldn't lift when I had low platelets, very low ammunity and a stomach abcess at the site of immunisations before having the splenectomy. I couldn't lift squat let alone Eth and mum would catch a bus, 2 trains and a taxi to make it here for the 6.30am start. How do you forget that sort of kindness? You can't. Ever.
*
REALLY -
Someone once dropped off a box of fresh fruit and vegies and canned goods to our doorstep about 4 years ago when we were having a VERY tough week and no one knew about that! We couldn't believe it - it was manna from heaven and we were so thankful for whoever's kind heart put it all there. It got us through and showed us that the Lord was watching out for our little fam :)
*
REALLY
- The dentist had his assistant call on Wed to see how I was feeling after seeing him on Monday to have the suturing removed. I thought that was so kind.
*
REALLY
- Staying with Nat and Greg and the kids, staying with Cass & Kely and the kids, staying at the Evo's holiday house...so much kindness given as a time of rest and hospitality.
*
REALLY -
the kind prayers of my SOF friends mean so very very much :)
*
REALLY
- Donna W buying us the Friendly Foods book and Lu taking the time to talk to me about failsafe stuff really changed alot of our life
*
REALLY
- Jill GG giving me her ticket to go to QLD for Lu's wedding in 07 was one of the single kindest gestures that I've experienced in my life :)
*
REALLY
- My dear friend Jo M taking the time to tell me about her newly found love for this Jesus would change the course of my entire life forever. This is THE most incredible act of kindness that I've ever known shown from one human being to another.
*
REALLY -
Lori & Heiko have shown so much kindness to us in so many ways and I am so thankful for them both.
*
REALLY
- My mother's group girls; acts of kindnesses have been shown to us through meals, babysitting, shoulders to lean on, hands to hold, cards and gifts for our kids, plants to brighten rooms...
*
REALLY
- I am going to leave off here but there are sooooooooooooooooooooo many more things/people/stories/situations I could add. Perhaps I should do a little mini album/journal documenting some of these things. I'm seriously not even scraping the barrel with this list. Not even close.
"But the fruit of the Spirit is love, joy, peace, patience,

kindness,

goodness, faithfulness, gentleness and self control"- Galatians 5: 22