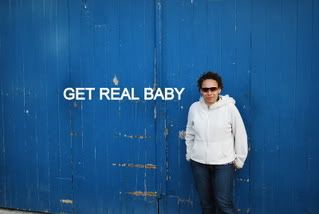 Up for another Get Real baby Challenge? Go on I dare ya! :)
Most of you would know that I loved scrapbooking (still on a break from it at the moment but...) the thing I love about it most was the memory keeping side of it.
Let me take it back a step.
Sense memory is a very powerful thing. I caught a whiff of a particular Glen 20 spray the other day and all of a sudden it felt like it was 1998 and I was taking a cold shower at my aunties house in Suva, Fiji dodging cockroaches crawling up the wall. Seriously. The smell of that exact fragrance which I sprayed quite often in that partially outdoor toilet/shower jogged so many memories about that holiday back in '98.
Seeing daffodils and snowdrop flowers takes me back to Saturday mornings when I was about 9 years old and I am digging in the garden with my daddy. Dad always made sure that there was not one little weed left after he'd finished with a bed he was working on and he always had the soil nice and dark and sweet smelling of water, fertilizer and bulbs. I loved putting on his oversized gardening gloves and pretending i was a grown up gardener with my dad.
One taste of a soft pineapple lolly and I am standing in the Stillisano's corner store and I reckon I'd be about 6 years old. Mum and dad would occassionally have to buy something from there and we'd be given a couple of loose coins to buy a treat or two of our choice from the little square glass lolly boxes on the counter. I can still smell the brown paper bags, the bananas, and coolness in that shop. I remember that you walked through those coloured ribbons that we taped to the door frame and I can still recall the feeling of them passing through your hands as you made your way through the door arms first.
So I guess my challenge to myself and to you too is to document your life as it is right now.
Room by room.
Memory by memory.
What mundane everyday things, rituals, smells, tastes, sights and sounds will you want to remember in years to come? I know I think I'll remember them but I won't unless I document them. This part of my life, this coming and going, this playing with kids, this always cooking and praying and laughing, this full house feeling, this ever talking, planning and organising motion will one day be very different. So here's to being thankful for each little part of this very full and busy life that I am blessed to have. Here's to remembering it in the future.
I'm starting with the place that I am most often in and just basically went around the kitchen and took photos of things that mean something to me or that I might want to remember in years to come. But I want to emphasise that this is not an exercise in what the room 'looks' like as much as it is what kind of feelings and memories that we associate with the things in that room. Our kitchen which has 4 big stools is the place people gather when they visit. Usually they sit while I stand and make coffees. It is where we've taught our kids to bake. It is where we saw a beautiful friend of ours meet Jesus for the first time. These are some of the things I think about when I picture my kitchen. What about you?
Really - these big stools have to go up on the bench when I mop and REALLY it has been wway too long since I last mopped. I used to try mopping once a week now I think the last time I mopped was about 8 weeks ago :)
Really - this blackboard that I shoved into an old frame about 4 years ago has served me well and helped me remember some great Bible verses. I think about the times I've stood at the sink and then glance back over my shoulder to see if I was close to the verse or not yet. I think about how the Lord has stirred His Word into my me by writing verses on here and learning them...
Really - Filling up the egg basket is one of my fave weekly rituals. Not sure why I like it but I just do. Maybe because it reminds me of being a kid and collecting eggs from our chook pen which mum and dad had for over 17 years. I eat alot of eggs. I take out the ones that are the oldest and put them into the empty side of the new egg carton. Then I fill the bottom up with the newest eggs and put the old ones on top. Pedantic much? :)
Really - Our posters on the fridge that have been up for the last year. The one on the left has the kids acting out our 3 family rules and the one on the right was a therapy tool for Liji which visual suggestions of what to do when he was feeling angry. It seemed to help and he's self regualting in that area alot better than he did a year ago - praise God :) I feel so thankful to the Lord when I look at this poster because it reminds me that we hardly ever have to point him in that direction anymore and reminds me that He is our Father who teaches us how to love and care for our kids which are His anyway...
Really - Three drink bottles lined up on the sink each night partially filled in case anyone needs a sippi in the night. The kids and these drink bottles just go together and are almost inseperable throughout the day so when I see these I think lively kids, loads of activity. I hear Ethi taking big audible gulps from his green bottle and I see Stass and Liji filling them up for each other...
Really
- Who needs a small collection of whisks in their kitchen? Ah that would be me for some strange reason. Please don't ask why but I like whisks. I have 6 of them I think and I'm not looking for anymore but I like the little white box with the 6 little whisks in it. Strange aren't i?
Really
- Having a dishwasher for me is a real blessing since we have an open door around here and always have people over and dishes to do afterwards but despite having this d/washer there are always pots, pans, lids and plastic things to clean and I always leave my gloves draped over the sink like this at night for some reason...
Well that was all I wanted to snap and share tonight but maybe you want to join in on your blog too? You can copy and paste the little 'Get Real Baby' code onto your post if you like and sharing parts of your reality with us too. Remember you can choose to see the mudane as something special and find joy in the small stuff too :)

Tune back in next week for another room to document.
5 things I am thankful for today:
1. Having a great catch up with Jill today :)
2. Catching up with Mel Owen too :)
3. Skyping with Clair and Ains and seeing their 5 week old Manny for the first time tonight :)
4. After Liji sneaking a couple of 'unsafe' biscuits yesterday and reaping the consequences of that in his behaviour today, we know that we are DEFINITELY doing the diet for the right reasons and that it REALLY IS WORKING!
5. That Grandma is getting better :)

Love Lus x
Ps: Thanks lovely Donna for understanding about today mate. Hope your day was ok :) xox