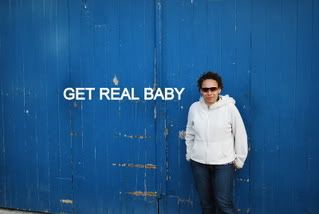 ETA: Those playing along in this round...
RENEE'S BLOG
GAIL'S BLOG
AMY'S BLOG
KJIRSTEN'S BLOG
DONNA'S BLOG
Something I've been praying about and thinking lots on lately. I am pretty sure that most of you understand why I began the 'Get Real Baby' challenge. However it's something that I've given a lot of thought too....it's right to get real. It's right to be humble enough to admit that we don't have it all together...it's right to bring down the walls so that all see each other as human beings not as Mrs Superwomen....it's right to see our imperfections because in the light of that we see the need we have for One who has it together who is the Way, the Truth and the Life to put us back together and make us whole again.
But I also realise that for some of us, that focussing on the 'real' side of things (even now and then) can make the circumstances seem too big...immovable...and I don't want people to be robbed of God's joy. I pray that this is not happening for you but that DESPITE your circumstances, that you will see that NOTHING at all is impossible for God to help you through.
SO....
What I'm thinking with this 'Get Real' thing is that we actually have a prompt each time that we blog a Get Real post. We can share with others on a shared topic that comes from a REAL place in our lives. It's another way for us to get to know each other a little more too. It might be something like this...
'GET REAL about a time or times when people have helped you out of a dire situation'
or
'GET REAL about your most embarrasing moment as an adult'
or
'GET REAL about something that saddens you'
or
'GET REAL about the state of your kitchen!'
Do you see where I am going with this? I hope that you 'get it' and would love some feedback.
Here's prompt number 1: GET REAL ABOUT YOUR FAVOURITE HOLIDAY MEMORY/MEMORIES:
REALLY....visiting the Reef Resort in Fiji when i was 16 was incredible. Loved it. All of it.
REALLY...despite the kids vomitting/gastro bug on our first family holiday to Lake Conjola, we will never forget it! And we had a lot of fun. Cleaning vomit up in baby wipes from the green of a mini golf circuit though was NOT the highlight!
REALLY....i remember sitting on the porch with my grandfather with my Bible open, his Fijian Bible open, resting in the afternoon light of the Northern sunset...I'll never forget that. Ever.
REALLY...reading on a very long jetty while Brett fished on our honeymoon up on the central coast. we were there. in love. by ourselves. love that memory.
REALLY...melbourne last sept was fantastic - spending quality time with each other and my sisters was unforgettable.
REALLY...we will NEVER forget travelling to NZ last year. EVER.
REALLY...i still pinch myself that i get to go away once a year with my girlfriends. I never thought i'd be able to do that and it is such a wonderful time that I look forward to each year. REALLY incredible.
Let me know if you choose to join in with this challenge and I'll link to your REAL HOLIDAY MEMORIES post.
Lus x